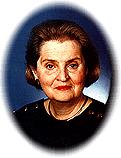 (http://secretary.state.gov/)
Madeleine Korbel Albright was the fiest female to hold the position of Secretary of State.So she has the title of highest-ranking female within the Unite States Government.And she hold a PhD from Columbia University in 1976. She taught undergraduate and graduate couses in international studies at Georgetown University. Her history of life is very rare and reflects to her latter life. She was born in 1937 in Prague, Czechoslovakia. In 1939, her family escaped to England because Adolf Hitler, who was a President in Nazi Germany, rose to power. After World War II, her family moved back to Prague. In 1950, her family moved to the U.S.A. in 1957, she entered Wellsley college and became a United States citizen. In 1981, she divorced. From 1982 to 1983, she served as professor of foreign policy at Georgetown University School of Foreign Service. In 1992, she became the U.S ambassador to the U.N. In 1996, she became the U.S. Secretary of States.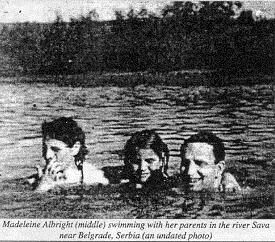 (http://www.srpska-mreza.com/library/facts/Mad.html)
Her characteristic has mainly three aspects.First of all, she believes in her family and has a strong will. As mentioned previously her history of life is very rare. One of these examples is that her family members were killed as Jewish victims of the Holocaust during World WarII. But she said she never was aware of what happenned to family members who stayed in Czechoslovakia. In an interview of Washington Post, she said, "Obviously it is a very perspnal matter for my family and brother and sister and my children. The only thing I have to go by is what my mother and father told me, how I was brought up." Her parents said of her relatives only that died during the war. "I believe that my parents did wondeful things for us," she said.According to reserch, her family would have been considered 100percent Jewish. But she said in the interview, "I have always thought of myself as a Czechoslovakia, the only democracy in central Europe. This was their pride and that is what I grew up with."(1)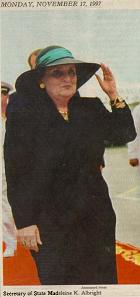 (http://www.srpska-mreza.com/library/facts/Mad.html)
She devotes herself to her job. When former President Clington named her to become the first femalese cretary of state in U.S. history, he said, "she watched her world fall apart, and ever since, she has dedicted her life to spreading to the rest of the world the freedom and tolerance her family found here in America."(2) Unless her experience with Nazi and later Communist tyranny, she might not be able to do her job successfully. She described America as "the world's indispensable nation and the core values of democracy and th respect for human dignity"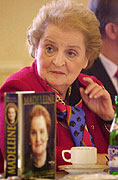 (http://www.radio.cz/es/articulo/46515)
She is enthusiastic and sociable. Especially her main talent lay in her networking abilities. Allan Goodman,who is the head of the School of Foreign Service at Georgetown University, said, "I remember her for her enthusiasm, as someone who knew the difference between talking and action. When she said she was going to get something done, she got it done. She was shown that she can communicate with a broad range of people around the world, and on Capitol Hill."(3) And that her supporters argue that the time she spent on Capitol Hill during the 1970's will help her in her negotiations with the Republican-controlled Congress over the budget.(4)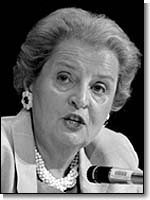 (http://www.washingtonpost.com/wp-srv/politics/govt/admin/albright.htm)
Through out reserching about Madeleine Korbel Albright, I realized the following three things. First, the foreign policy during the terms she was Secretary of States was reflecting her life and belief. Second, the U.S.A. is the state of the immigration, and has a multicultural sociaty. It is sure that there are many problems such as discrimination. But oribinally the U.S.A. was established by immigrants. Third, and most importantly one of the reasons why the U.S.A. has strong power was gathering the people from all over the world. The U.S.A. has not only the hard power such as military powers,but also the soft power such as man power like Albright.
Notes
(1)Michael Dobbs,"Albright's Family Tragedy Comes to Light", Washington Post, 2/4/1997
(2)Michael Dobbs and John M. Goshko, "Albright's Personal Odyssey Shaped Foreign Policy Beliefs", Washington Post, 11/6/1996
(3)Ibid
(4)Ibid
References
Madeleine Albright, Madam Secretary, (Newyork:The Easton Press,2003)